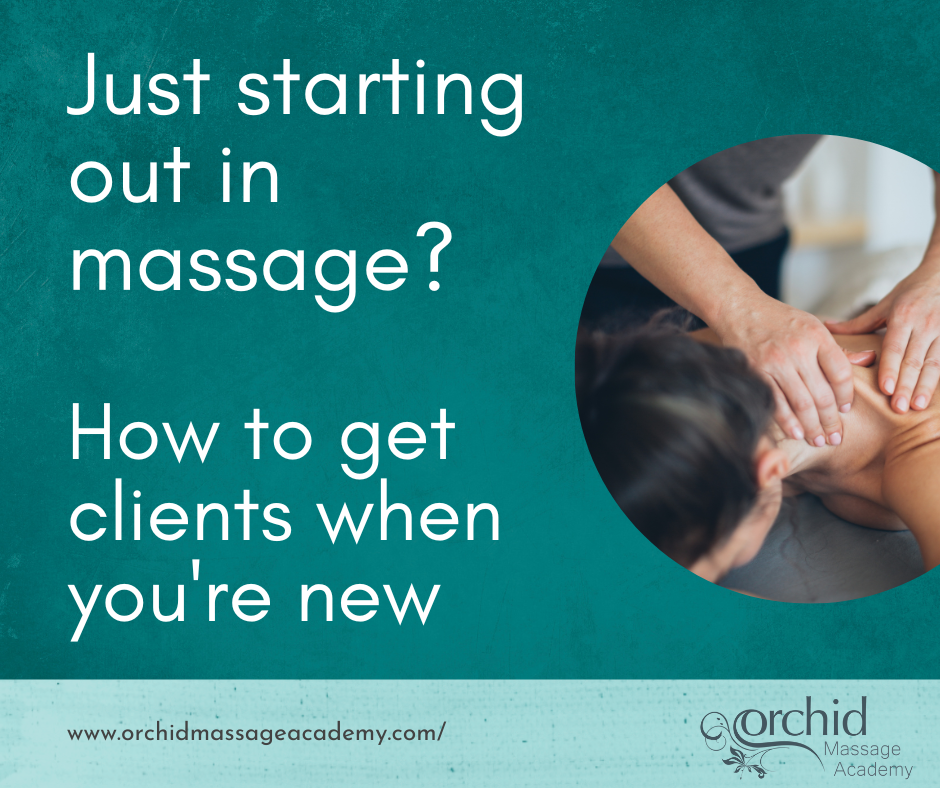 How to get your first massage clients when you're just starting out
Starting out as a massage therapist can be both exciting and daunting. You have honed your skills and are ready to begin helping people feel their best. However, getting clients when you're just starting out can be challenging.
There's so many different ways to get new clients, but here are what I think are the most important ones when you're just starting out.
1.Create a strong online presence
Having a strong online presence is essential in today's world. It's the first place potential clients will look when searching for a massage therapist. You'll need a Google Business page, a Website and a social media presence.
GOOGLE BUSINESS – Adding a Google Business listing is a great way to improve your online presence and make it easier for potential clients to find you. Here are some ideas for optimizing your Google Business listing:

Claim your listing
The first step to optimizing your Google Business listing is to claim it. If you haven't already, go to Google My Business and claim your listing. This will allow you to update your information, add photos, and respond to reviews.


Complete your profile
Make sure your profile is complete and up-to-date. This includes adding your business hours, contact information, and a description of your services. You can also add photos of your massage room and any certifications or awards you've received.


Optimize your website for local search
Your website is an important part of your online presence, and optimizing it for local search can help you rank higher in Google's search results. Include your location and services in your website's content and meta tags, and make sure your website is mobile-friendly.


Encourage reviews
Encourage your clients to leave reviews on your Google Business listing. Positive reviews can help improve your ranking in Google's search results and attract new clients. Make sure to respond to any reviews, whether they're positive or negative.


Use Google Posts
Google Posts are a feature of Google Business that allows you to share updates, promotions, and other information with potential clients. Use Google Posts to share information about your services, special offers, and any events or workshops you're hosting.
By optimizing your Google Business listing, you can make it easier for potential clients to find you online and attract more clients to your massage therapy business.
6. Get Your NAP right!

When setting up your Google Business listing, make sure to enter your business's name, address, and phone number (NAP) accurately and consistently across all online directories and platforms. Make sure your social media and website name and address match your Google Business listing. This helps to establish your business's credibility and legitimacy, and can also improve your search engine rankings
WEBSITE – Make sure you have a website that is easy to navigate and showcases your skills and services. It doesn't need to be anything fancy, as long as you have a good Home page, About page and list of services. (Here's a checklist for The Perfect Website )
SOCIAL MEDIA – Use Facebook or Instagram to reach potential clients. Share posts about your services, positive feedback you receive from current clients. Also share posts building your authority. (educate on what your style of massage can do for people, and also post about things your ideal client might be feeling.) Also create posts to get people commenting and having conversations on your page. The more you engage and interact with people the more they get to know, like and trust you (and the more likely they are to want to book a treatment with you.
2. Network with other professionals
Networking with other professionals in the wellness industry can help you get your name out there. Reach out to chiropractors, acupuncturists, and other massage therapists in your area. Attend events and conferences where you can meet other professionals and introduce yourself.


3. Offer promotions and specials
We need to get people through your door so you can wow them with your massage skills. One way of doing that is by offering promotions and specials for new clients.  Also consider offering a package deal for multiple sessions. This not only helps you get clients but also encourages them to come back for additional sessions.


5. Volunteer your services
The most important thing when you're just starting a business is to get out and about and get visible. Volunteering your services is a great way to get experience and exposure. You can offer to provide massages at local events, sports teams, or charity events. This not only helps you get clients, but it also shows your commitment to the community.


6. Create a comfortable and welcoming space
Sounds obvious, but creating a comfortable and welcoming space for your clients is essential. You'd be surprised how many therapists get this wrong when they're just starting out. What you were taught in massage school isn't always the best, most comfortable way of setting up a space.
Make sure your massage room is clean, tidy, and relaxing. Use soft lighting, soothing music, and comfortable furniture to create a peaceful atmosphere. Your clients will be more likely to return if they feel comfortable and relaxed during their sessions. If you want help with how to make the client experience EVEN MORE amazing, check out The Massage Mastery Programme

7. Partner with local businesses
Partnering with local businesses can help you get your name out to a wider audience. Reach out to gyms, yoga studios, and other wellness-related businesses in your area to see if you can offer your services on-site. Give taster sessions to their community, do special offers or giveaways to get new clients through the door. You can also refer clients to each other or join together to put on events or workshops.


8. Attend community events
Attending community events, such as farmer's markets, fairs, and festivals, can be a great way to get in front of potential clients. Consider setting up a booth or table where people can learn about your services and even experience a short demonstration. Make sure you have a way to gather people's phone number or email addresses. A good way to do this is to do a prize draw or raffle with the prize being a massage. (If you get a way to contact everyone who enters, you can give them a special offer for those who didn't win.)


9. Offer a free consultation
Offering a free consultation can be a great way to get people in the door. This gives potential clients a chance to learn more about your services and get a feel for your style. You can also use this time to discuss any specific concerns they may have and recommend a treatment plan.


10. Create a referral programme
Creating a referral program can be a great way to incentivize your current clients to refer their friends and family. Offer a discount or free session for every new client they refer. (and the existing client gets something too.) This not only helps you get new clients but also strengthens the relationship with your existing clients.


Getting clients as a new massage therapist takes effort and perseverance. Creating a strong online presence, networking with other professionals, offering promotions, asking for referrals, volunteering your services, and creating a comfortable space are all effective ways to attract new clients. Remember, building a successful massage therapy business takes time, so be patient, and stay committed to providing the best possible experience for your clients.
Remember, there are many ways to get clients as a massage therapist. Experiment with different strategies to see what works best for you and your business. And most importantly, focus on providing the best possible experience for your clients, and the rest will follow.
………………………………………………………………………………………………………………………………………………………………………………………
Want more tips and advice like this? Come and join the community of fellow massage therapists!
Massage & Holistic Therapists – Build Your Dream Business is a free Facebook group where I regularly share tips, strategies and give free trainings on how to get consistent clients using simple marketing know-how. I created it to be a useful and nurturing space for you to take your therapy business to the next level. I'd love to see you in there!